---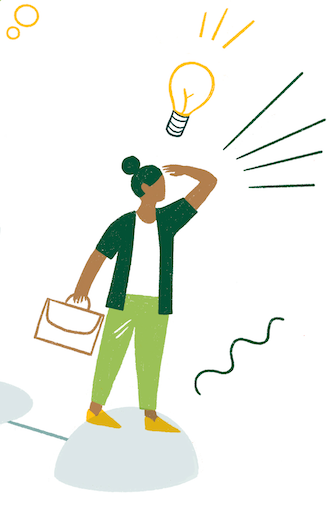 MLU Mentoring Programme for doctoral students, postdoctoral researchers and junior professors
Notice: MLU Mentoring 2023
Unfortunately, we are currently unable to answer contact inquiries regarding the MLU-mentoring in a timely manner as the project coordination position is vacant. For urgent questions, please consult the contact information on the right.
We are currently not accepting applications for 2023.
Andrea Ritschel
Referentin für Vielfalt und Chancengleichheit
Shape your scientific career path in a self-determined way! - We accompany you in the process.
What is mentoring?
The focus of a mentoring program is the informal transfer of knowledge and experience for the development and pursuit of individually viable strategies for a career in science between young scientists (mentees) and professors (mentors). In addition to a mentorship, which usually lasts 1-2 years, there are many networking events and workshops.
Find out if you are the type for a mentoring program by answering three questions. Please click on the "Mentoring Type Test". Have fun!
How does MLU mentoring work?
The year 2020 started with a relaunch of the internet presence and with a restructuring of MLU Mentoring. MLU Mentoring itself was conceived in 2012 and has a large alumni network. Digitization and internationalization are being given greater focus as structural topics. In terms of content, the program is geared as usual to the needs of the participants. Adaptations to (new) working and scientific worlds and the expansion of the variety of topics will continue to be central contents of mentoring in 2022.
You can find examples of topics for workshops here.
20230828_Workshopplan_2022_2023_MLU-Mentoring.pdf (130.3 KB) vom 28.08.2023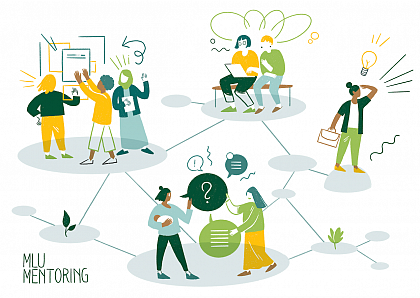 Illustration von Eva Feuchter
What is the benefit of mentoring?
Anita Sekyra, a research associate at the Center for Higher Education Didactics in Saxony and a speaker at MLU Mentoring on the topic of "collegial consultation," tells us what mentoring programs have brought her and what she has taken away from her mentoring program.
Interview_Sekyra_Mentoring.pdf (2 MB) vom 17.06.2021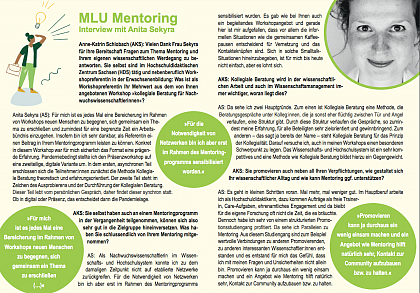 Who is the target group?
MLU Mentoring is designed on a modular basis. Each module maps a target group.
The module "Pathways to Science" is tailored to the target group of female doctoral candidates who are considering a career in science.
The module "Orientation Professorship" is aimed at women who have the goal of becoming a professor and are in the early postdoctoral phase.
The third module is a cross-university networking module for women in the late postdoctoral phase with the certain goal of becoming a professor.
What is the feedback of MLU Mentoring participants?
"Pathways to Science," Cohort 2020:
"I got so much input from my mentor already after the first digital meetings that I can draw on it for a while and first have to implement her advice at my leisure." (PhD student at MLU)
"On the way to a professorship" UNIBUND mentoring, 2020 cohort:
"I have only had or gained good experiences during the last mentoring year and would be happy if it were possible to continue to exchange ideas with the mentees of my cohort, my mentor, and to participate in workshops." (MLU postdoctoral fellow)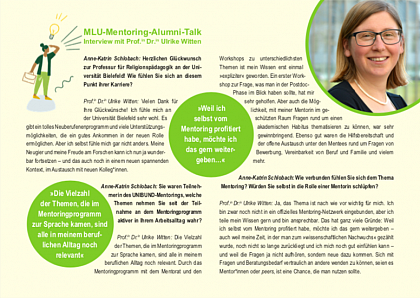 Prof.in Dr.in Ulrike Witten

This programme meets the quality standards laid out by the Forum-Mentoring registered association (e.V.).
---
---