---
---
Contact
Projektkoordination:
Claudia von Kalnassy
phone: +49 345 55 21 015
fax: +49 345 55 27 092
claudia.von-kalnassy@rektor...
room Raum Rektoratsgebäude / Kanzlerbereich /
Erdgeschoss
Universitätsplatz 10
06108 Halle (Saale)
---
---
Login for editors
---
Pathways into Academia – Foundation Module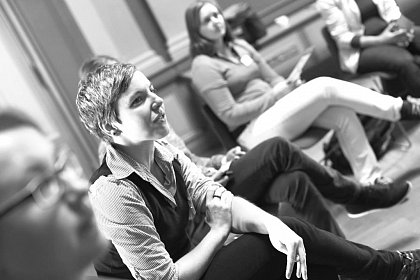 Primary target group (orientation)
PhD candidates at the beginning of their qualification phase, as well as those well advanced in their doctoral studies, those who want to pursue a career within and/or outside university Academia, as well as post-doctoral candidates contemplating an alternative career to becoming a professor.
Basic information
Number of participants per Mentoring Year: 12
Module period: 1 year (June - June)
Module preparation (March)
Transitions between initial doctoral research phase – advanced doctoral research and graduation phase – orientation towards Academia
Module components
Module-specific components
Peer-group mentoring
Mentoring takes place in the mentees' module group. Mentors are internal or external experts who are invited to the meetings of the mentoring peer-group.
Key qualifications workshops
1. Workshop 'Career paths in Academia'
2. Workshop 'Topics workshop' (optional)
3. Workshop 'Topics workshop' (optional)
Peer-group meeting (informal)
Components spanning all modules
MLU annual meeting (opening and closing event)
MLU mid-year meeting
MLU mentee meeting
MLU mentoring Café (informal)
Module box – Pathways into Academia/Foundation Module
Modulkasten Basismodul.JPG (75 KB) vom 23.09.2016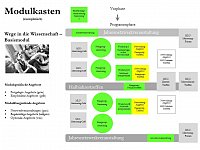 Module specification
The Foundation Module is characterised in particular by the module component 'Peer-group mentoring'. Content-wise, the focus is on the substantiation of individual career perspectives, and their compatibility with professional development and academic work, supported by the interdisciplinary exchange between researchers. 'Peer-group mentoring' is a particularly good starting point for reflection on subject-specific connections and the development of career opportunities in the academic field. The mentoring process is complemented by module specific workshops and different module-spanning networking opportunities.
The Foundation Module offers group specific options
During the PREPARATION PHASE, after completing the workshop "Preparing for the mentoring process", Foundation Module participants can choose topics for their peer-group mentoring and topics for their associated workshops (2nd and 3rd module workshops). The workshop 'Career paths into Academia' (1st workshop) runs during this module. Additionally, numbers and times (i.e. after the workshops) for the optional networking opportunity 'Peer-group meeting' are scheduled.
During the PROGRAMME PHASE the module components result in a programme structure with about one meeting per month. Four mentoring peer-group meetings are scheduled over the programme duration. More meetings can be scheduled if desired.
A generic timetable is given in the outline below.
Participation is open to all female MLU new career researchers interested in an individual strategy for their career as a researcher. PhD candidates should have finished preparations and deliberations for their thesis concerning their final choice of topic, and should be able to demonstrate they have secured dissertation supervision at their faculty. A formal application for this module is required.
Programme module timetable (generic)
Overview of the programme timetable (generic)
Uebersicht Programmablauf.jpg (147.4 KB) vom 07.09.2016

---
---