---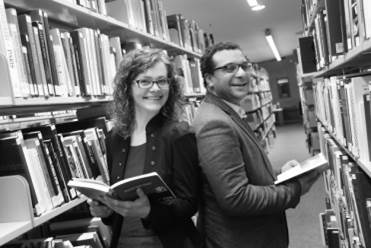 ---
---
Contact
Projektkoordination:
Claudia von Kalnassy
phone: +49 345 55 21 015
fax: +49 345 55 27 092
claudia.von-kalnassy@rektor...
room Raum Rektoratsgebäude / Kanzlerbereich /
Erdgeschoss
Universitätsplatz 10
06108 Halle (Saale)
---
---
Login for editors
---
Characteristics and programme structure
Characteristics
The MLU Mentoring Programme for new career researchers...
is interdisciplinary.
is characterised by a sequential, modular, target-group specific programme structure.
focusses on the transitions within the qualification progression of the Academic off-spring.
is characterised by a decrease in structure and an increase in (group-specific and individual) structuring choices over the course of the module.
offers time exposure appropriate for the situation of a new career researcher.
facilitates participation at different times during the course of the qualification, whereby modules can be combined with each other.
pursues a sustainable, integrative network formation, involving synergies at the MLU and within the academic region Halle-Jena-Leipzig.
Target groups
Mentees
MLU new career researchers of all qualification stages and subjects can apply as mentees. New career researchers, who would like to participate in the Mentoring Programme, should be aiming for and pro-actively pursuing a position of leadership in Academia. Apart from commitment and motivation, an openness for constructive feedback and the ability to actively engage with the programme modules is required.
Mentors
As mentors, new career researchers will have by their sides experienced professors from different disciplines of the MLU and the University Association Halle-Jena-Leipzig (module within the University Association) respectively, as well as external experts if required. Mentors are motivated to pass on their knowledge and experience to new career researchers face-to-face.
Programme structure (modules)
The Mentoring Programme for new career researchers at the MLU comprises three modules, which map out the entire qualification period of junior academics, as well as comprising two additional modules.
The focus of the modules are the different career paths and opportunities respectively, in research within as well as outside of university. Across all modules the emphasis is increasingly put on pathways to becoming a professor.
Modules overview of MLU Mentoring Programme
Uebersicht Module des Mentoring-Programms der MLU.jpg (118.3 KB) vom 13.09.2016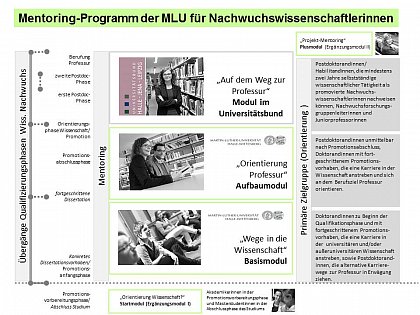 Programme and preparation phase
Programme phase
The programme phase comprises a period of 12 months. The annual meeting (June/July) marks the beginning of the programme phase. The programme phase follows a module-specific layout, and every module is characterised by prespecified and group-specific structuring options.

Uebersicht Programmablauf.jpg (147.4 KB) vom 13.09.2016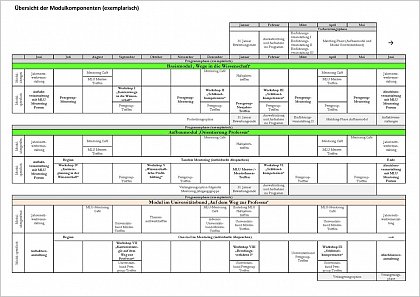 Preparation phase
A preparation phase (March – June) prepares for active participation during the programme phase. As part of the introductory event 'Mentoring', a workshop "Preparation for the mentoring process" is on offer for each module. This workshop conveys important basics for the mentoring process. In the Advanced Module 'Orientation Professorship' and the University Association module 'Prospect Professorship', the 'Matching' phase follows after the workshop.

Module components
The module components 'Mentoring', 'Workshops' and 'Peer-group meeting' are module-specific, respectively.
The module components 'Networking events' und 'Networking opportunities' are part of the module-spanning programme.
Networking events and networking opportunities
Above all, the networking events offer mentees the opportunity to meet other mentees and mentors of the Mentoring Programme. They offer a platform for scholarly exchange, complementing the work on dissertation and other academic work of the new career researchers.
Annual networking event (end of June/ beginning of July)
Mid-year meeting
Networking opportunity 'MLU mentee meeting'
Networking opportunity 'Mentoring Café'
'Topic networking opportunity' (University Association module)
Networking opportunity 'Topics peer-group' (University Association)
Mentoring
The MLU Mentoring Programme differentiates between three types of mentoring:
Peer-group mentoring: Foundation Module 'Pathways into Academia'
Tandem mentoring (One-to-one mentoring): Advanced Module 'Orientation Professorship'
One-to-one mentoring: University Association module 'Prospect Professorship'
Mentoring is a classic form of personalised promotion of young academics. Through dialogue, mentor and mentee (one-to-one mentoring) and experts, and a group of mentees (peer-group mentoring) respectively, develop career prospects in Academia, compatible with partnership/family. The transfer of informal knowledge, and the strategic planning and implementation of career steps from the mentee's perspective, is central. The mentoring relationship is shaped by absence of a hierarchal structure, and by openness. Its foundations are personal contact, voluntariness, independence and confidentiality.
Workshops
A high-quality range of workshops to enhance key competencies and consolidate the academic career of the mentees, complements the mentoring process. The workshops are usually one day long. They have been designed specifically for the Mentoring Programme and reflect the individual preferences of the mentees. They are conducted by established external consultants with years of experience and recommendations in the area of coaching and qualifying young talent with a focus on equal opportunities. Three workshops are provided for each module every year.
Series of workshops
A series of workshops on the subject area 'Career paths/career strategies/academic profiling' are set in the programme:
Career paths into Academia (Foundation Module 'Pathways into Academia')
Career planning in Academia (Advanced Module 'Orientation Professorship')
Academic profiling in practice (Advanced Module 'Orientation Professorship')
Career strategy 'Prospect Professorship' (University Association module)
Call to Professorship in Practice I and II (University Association module)
Workshops with optional choice of topics
Alongside this series of workshops, mentees can also name workshops with other topics as their module workshops. Topics can, for example, be one of the following:
Networking strategies – Building and expansion of career-relevant networks
Managerial functions, such as human resource management/ management of leadership roles
Managing impressions/negotiations training
Women in Academia – Careers and the glass ceiling
Work-life balance – Compatibility of work life and private life/ time management
Attracting third-party funds for new career researchers
Peer-group meeting
The mentees of one module and Mentoring Year form a peer group. The focus of a peer-group meeting is the informal exchange. The interconnectedness within the peer group offers the perspective of a medium and long-term support option, over and above the duration of programme participation.
Aim of the programme
The objective of the Mentoring Programme is to optimise career opportunities for new career researchers, raising the percentage of women in leading academic positions at universities long-term. The mentoring process aims to make the competencies and potential of female academics visible, to strengthen them and to support these new career researchers when mastering gender specific qualification requirements in Academia by specific individual career promotion. The active planning of the academic career, with compatibility of work and partnership/family, is encouraged by the transfer of interdisciplinary competencies.
The Mentoring Programme cannot be understood as providing subject-specific supervision, and does not replace the faculty-internal qualification guidance. Participation in the Mentoring Programme complements the subject-specific academic support at the faculties, and - as an offer of support - is not competing against, but rather complementing and adding value to it.
Opportunities for new career researchers
Participation in the mentoring process is associated with different opportunities, depending on individual interests of the new career researcher, such as:
Acquisition of career-relevant knowledge about structures, processes and customary rules of academic life.
Construction and expansion of career-relevant (informal) networks
Transfer of knowledge and experience with established researchers
Academic exchange and motivation through networking
Expansion of skills in workshops about key qualifications
Reflection on gender-specific factors in a career in Academia
Counselling regarding career-relevant questions, taking individual life stages into consideration, and support with planning concrete steps up the career ladder.
---
---